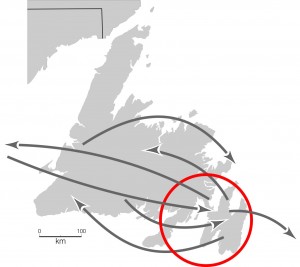 A substantial but hard-to-document proportion of Newfoundlanders and Labradorians participate in employment-related geographical mobility and temporary foreign workers are being employed in the province.
On the Move researchers in Newfoundland and Labrador are interested in talking to people with knowledge about employment-related geographical mobility in the province, including employers, employees and their families, policy makers, union and community leaders.
Eastern Newfoundland is the primary research area of the On the Move NL Research Team. We will be focussing on multiple sectors, including:
Fisheries
Nickel processing
Ferries
Shipping/Transshipment (Oil and gas)
Construction.
Our research includes: interviews with people experiencing and affected by employment-related geographical mobility; online surveys with human resource managers, union representatives and small business owners; documentation and analysis of relevant policies; and statistical analysis of mobility trends.
Results
A full listing of results from the On the Move Partnership knowledge mobilization  is included in the document available here.   Some of the results from the Newfoundland and Labrador component is noted below.
A number of Digital Stories have been develoed by the Ferries component and Shipping/Transshipment (Oil and gas) teams based on their research – the digital stories can be viewed  here.   All digital stories were produced at Memorial University Faculty of Humanities and Social Sciences film unit, with support from SSHRC, InnovateNL and CFI.
● The Last Generation" (scheduled for 2020) is a film about the St. John's Branch of the CN Pensioners' Association. It tells the story of what it was like to work in CN's varied transportation and communication services, which comprised telegraphy, rail, marine, trucking and buses. The narrators also describe what it felt like when CN closed down in Newfoundland and Labrador and the role the pensioners' association has played since.
● Making the Rounds: Ron Lee's Lifetime of Service" (2019) is a story about a rich life of moving from place to place as part of work, including as a clergyman, teacher, and a CN train employee. It highlights the key role of various modes of transportation in the history of Newfoundland and Labrador. Featuring Ron Lee.
● A Family on the Move" (2019) is a digital story exploring the impact of mobility on a family of mobile workers from New Harbour, NL where the husband, Aiden, works as a seaman on tankers, the wife, Zula, drives a long daily commute as a nurse, and their son, Andre, works on a Coast Guard vessel.
● "Stories Would Be Told: The Commuting Career of Kay Coxworthy." (2018).  A story about work-related commuting on the ferry between Bell Island and Portugal Cove, and the powerful role of place, community, and storytelling in commuters' lives. Featuring Kay Coxworthy.
● Home and at Sea: A Newfoundland Story." (2018). A digital story about one young Newfoundland family's experience of family life when one partner and parent is away at sea for extended periods. Featuring Ryan and Lesley Gates.
● Living the Turnaround Life." (2018). A digital story about one young couple's experiences of family life when one half of the couple works away on a "2-weeks on, 1-week off" turnaround.
● Working Away." (2018). A digital story about a young father and husband who works at sea. Featuring Tommy Doyle.
● Bob and Pauline's Story." (2017). A digital story about work-related mobility in rural Newfoundland.
The Community Impacts team has developed a number of reports on research findings:
● Mobile Work in Long Harbour. (2020) by Heather Hall, Kelly Vodden, Josh Barrett, Leanne Butters.
● Mobile Work in Happy-Valley Goose Bay. (2019) by  Leanna Butters,  Heather Hall and  Kelly Vodden.
● Mobile Work in Labrador West (2019 by Leanna Butters,  Heather Hall and  Kelly Vodden.
● Mobile Work in the Clarenville-Isthmus Area. (2019) by Leanna Butters,  Heather Hall and  Kelly Vodden.
● Mobile Work in the Straits and South Coast. (2018) by  Kelly Vodden, Heather Hall and Leanna Butters
● Fly-in/Fly-out Commuting in Deer Lake. (2018). Findings from the research project "Identifying the Built Space Impacts of Fly-in/Fly-out Employment-Related Geographical Mobility in Deer Lake, NL."  by Leanna Butters
● Mobile Work the Burin Area. (Forthcoming 2020) by  Kelly Vodden, Heather Hall and Leanna Butters.
An open access journal and a report from the Apprenticeship and Youth team

● Nicole Power, (2019).  Re-Inscribing Gender Relations through Employment-Related Geographical Mobility: The case of Newfoundland Youth in Resource Extraction.   Special issue:Examining the intersections of place and space with childhood and youth, Guest Eds.  Rachel Berman, Fiona Nelson, and Michael Adorjan.  Canadian Journal of Sociology 44(3) 2019, pp. 283-308.
● Earle, Jessica, and Nicole Power. (2017). "Skilled Trades and Education-related Geographical Mobilities: A Case Study of Students enrolled in the College of the North Atlantic's Process Operator Course."   Department of Sociology and On the Move Partnership, Memorial University, St. John's, NL.  December 2017. 10 pages.
A report from the Fisheries Team
● Paul Foley, Barbara Neis, Nicole Power, Christine Knott and Courtenay Parlee. (2016).   Opportunities for and challenges of occupational pluralism in seasonal fisheries: Regional cases from Atlantic Canada.  December 22, 2016.  32 pages.
From the Nickel Processing Team
● Barrett, Joshua. (2019).  "There and Back Again: How Labour Mobility Impacts Community Development in Source Communities. " Transatlantic Journal of Rural Research 1: pp 1-35.
NL component Trainee Thesis
● Barrett, Joshua (2017). Commuters and Communities: The Social and Economic Impacts of Labour Mobility on Source Communities. MA Thesis, Department of Geography, Memorial University, St. John's, NL.
● Bury, Madeline (2019) Gender, retirement & mobility: a case study of the Lobster Enterprise Retirement Program in Newfoundland. Masters thesis, Memorial University of Newfoundland.
● Butters, Leanna (2018). Identifying the built space impacts of fly-in-fly-out employment-related geographical mobility in Deer Lake, Newfoundland and Labrador. MA Thesis, Environmental Policy Institute, School of Science and the Environment, Grenfell Campus, Memorial University, Corner Brook.
● Knott, Christine. (2017). Beyond cheap wage labour: an investigation into qualitative labour shortages and mobility in the New Brunswick fishing industry. PhD Dissertation, Sociology, Memorial University, St. John's, NL.
Forum on Housing and the Mobile Workforce in Newfoundland and Labrador: On April 26, 2016, the NL Field Component of On the Move was pleased to partner with Municipalities NL, The Canadian Home Builders' Association NL, Canada Mortgage and Housing Corporation, and The Harris Centre to host a very successful Forum on Housing and the Mobile Workforce  This event was open to the public, and attendees were offered an opportunity to discuss housing-related pressures for communities in the context of high job-related mobility, as well as the impacts of the economic downturn on housing and labour markets. For detailed information (including copies of featured presentations and the final report), click here.
Newsletter: For more details on what the NL Research Team has been up to, please see the following issues of our biannual newsletter, On the Move on the Rock (newsletter will download as a pdf): April 2018; June 2017; December 2016: June 2016; December 2015; June 2015; December 2014; June 2014; December 2013.
Our Team
Researchers:
International researchers:
Trainees:
Partners:
International partner organizations:
Contact Info:
Dr. Nicole Power, NL team co-lead
Department of Sociology, Memorial University
Tel: (709) 864-6914
Email: npower@mun.ca
Dr. Kelly Vodden, NL team co-lead
Environmental Policy Institute, Grenfell Campus
Tel: (709) 639-2703
Email: kvodden@grenfell.mun.ca
Top ^