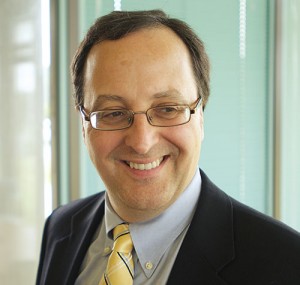 Rob Greenwood is Associate Vice President, Public Engagement and External Relations, and Director of the Harris Centre. He is lead on the Public Engagement Framework for Memorial, which coordinates and supports the University's collaboration with partners and stakeholders. The Harris Centre's mandate is to coordinate and facilitate Memorial University's educational, research and outreach activities in the areas of regional policy and development. Community and stakeholder engagement is the focus of Rob's research with On the Move.
Rob holds a Ph.D. in Industrial and Business Studies from the University of Warwick, England, which he attended as a Commonwealth Scholar and an Institute of Social and Economic Research Doctoral Fellow. He was Newfoundland's representative on the International Advisory Board of the North Atlantic Islands Program and co-edited Competing Strategies of Socio-Economic Development for Small Islands, published in 1998. He was also co-editor of Remote Control: Lessons in Governance for and from Small, Insular and Remote Regions, published in 2009.
Selected publications:
with Ken Carter and Heather Hall, "Innovation in Newfoundland and Labrador: Imperative Across the Quadruple Helix," in Peter Phillips and David Castle (eds.), Science and Innovation Policy in the Provinces. Toronto: University of Toronto Press, Forthcoming

with Heather Hall and Kelly Vodden. 2017. "From Dysfunctional to Destitute: The Governance of Regional Economic Development in Newfoundland and Labrador," International Planning Studies, 22(2): 49-67.

with Heather Hall, Jacqueline Walsh and Kelly Vodden.  2016. "Advancing innovation in Newfoundland and Labrador: insights for knowledge mobilization and university-community engagement".  Journal of Community Engagement and Scholarship (e-journal).  9(1).

"Embarrassment and Riches: Good Governance and Bad Governance in the St. John's City Region."  2014.   In Neil Bradford and Allison Bramwell (eds.).   Civic Engagement and Collaborative Governance in Canadian City-Regions, Toronto: University of Toronto Press

"Rural Newfoundland and Labrador: The Personal and the Political in Sustaining Choices and Sustaining Communities."  2014.   In  Rural Transformation and Newfoundland and Labrador Diaspora: Grandparents, Grandparenting, A. Singh and M. Devine (Eds.).  Community and School Relations. Rotterdam, Boston, Taipei: Sense Publisher, pp. 43-54.

with Josh Lepawsky and Cystal Phan.  2017.  "Metropolis on the Margin: Talent Attraction and
Retention to the St. John's City-Region," The Canadian Geographer, 54 (3),  pp. 324-46.
Related links:
The Harris Centre, Memorial University
Contact:
Email: robg@mun.ca
Top ^