On the Move's research is organized into four main components: Policy Research; Statistical Research; Field Research; and Online Surveys. Our research design includes mechanisms for integration across all four.
Policy Research: here researchers are documenting changes in international, federal and provincial legislation, policies, and programs (1980 – 2016) that drive or structure interprovincial and international E-RGM. We are also examining the challenges that arise when legislation and policy developed for a presumed-to-be static workforce is applied to mobile workers, and the potential consequences for the risks, protections, and entitlements of these workers. Researchers are employing classic methods of legal and policy analysis, including documentary analysis of statutes, case law and policy documents, and interviews with key informants, including federal and provincial policy makers and stakeholders (unions, municipal leaders, employers' associations) that can provide an overview of the principal regulatory issues, and help us understand whether and how E-RGM is a policy issue for them.
Statistical Research: There are four pieces to this component, including analyses of: (i) census data from 1981 to 2016; (ii) Immigrant Landing Datasets to capture Temporary Foreign Workers; (iii) a customized longitudinal database under development for NL at Statistics Canada; and (iv) a 2005-6 labour force survey database for the Greater Toronto Area.
Fieldwork Research: here researchers are carrying out intensive, historically-informed field research in seven different provinces and multiple occupational sectors. Field research sites include workplaces, households and home and host communities of varying sizes and degrees of remoteness. The selected sectors have been associated with different organizational and regulatory histories and patterns of E-RGM and include different kinds of work: professional and para-professional to low skilled work, skilled trades, apprentices and journeymen, and male and female-dominated occupations. A common set of field research methods is being used to help us compare results across sectors and field locations, these include: semi-structured key informant interviews; examination of written documentary sources such as media coverage, reports and records; in-depth life history interviews with a go-along Google Earth technique to allow interviewees to trace their ERGM time/distance/mode of travel journeys over their careers; participant observation involving ethnographers' engagement in, and simultaneous observation of, routine activities in field sites. Subsections of participant groups are also being asked to engage in digital storytelling and participatory videography for use in research and knowledge mobilization.
Online Survey Research: Researchers have been developing and administering on-line surveys of three core groups knowledgeable about E-RGM and likely to have differing perspectives on it: (i) Human Resource personnel in companies employing mobile employees in our field sites and elsewhere; (ii) union shop stewards representing these employees; and (iii) the owners of small businesses with mobile employees.  We are also conducting online surveys with youth, apprentices and healthcare professionals and paraprofessionals to supplement field research findings. Surveys are designed with input from On the Move researchers working on policy, statistical, and field research, as well as from  partner organizations.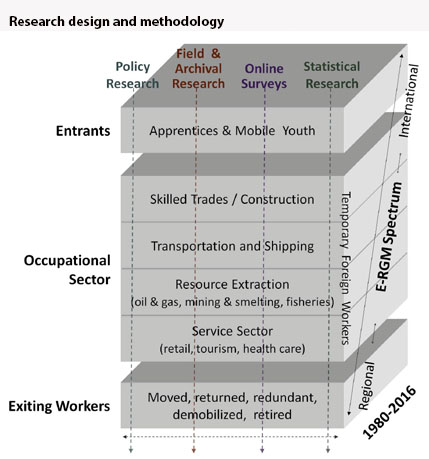 Top ^