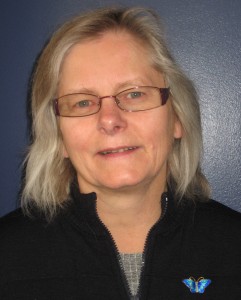 Siri Gerrard is a professor emerita at the University of Tromsø, Norway, where she is affiliated with the Centre of Women and Gender Research, and the Department of Sociology, Political Science and Planning. Her research areas include women and gender in fishery politics, fishery work, and fishing communities in North Norway. Earlier she also worked in Tanzania, Cameroon and Uganda. Gender and feminist theory of science has also been a field of interest.
Recent collaborative projects include: Sustainable Coastal Cultures, Local Communities and  Resource Management in a Gender Perspective (2003-2008); Mobile Lifestyles: Perspectives on Work Mobilities and Gender in the High North (2012-2016); and the NUFU- financed project Gender, Poverty and Social Transformation (2006-2012). These projects have involved collaboration with researchers from Norway, Newfoundland, Canada, and Uganda, which has led to contributions in national and international journals and books.
As a co-investigator with On the Move, Siri has worked with researchers in Newfoundland and Labrador to develop a comparative NL/Norway study of mobilities in fishery areas.  In addition she helped organize an international conference on the theme: "Gender and (Im)mobilities in the Context of Work," that took place n Tromsø, June 15 -17, 2016.   Several of the contributions were published in the special issue of Gender, Place and Society  Volume 25 (8). ISSN 0966 369X.
.
Selected publications:
Frangodues, Katia, Gerrard, Siri and Danika Kleiber   2019.  "Situated transformations of women and gender relations in small-scale fisheries and communities in a globalized world. Maritime Studies, 18:241–248.   https://doi.org/10.1007/s40152-019-00159-w

Pavlovskaya, Marianna, Siri Gerrard and Marit Aure.  2019.  "Introduction: guest editorial for special issue gender and im(mobilities). "  Gender, Place & Culture: A Journal of Feminist Geography 25(8):1115-1120.  https://doi.org/10.1080/0966369X.2018.1499618

Gerrard, Siri, Danika Kleiber.  2019.  "Women fishers in Norway: few, but significant."  Maritime Studies.  18:259-274. https://doi.org/10.1007/s40152-019-00151-4

Gerrard, Siri: Kvinner.  2019.  "men og kjærligheten til fiskeværet: frivillige praksiser i et nordlig kystsamfunn ( Women, men and passion for their fishing village: volontary practices in a northern coastal society). " In Dette brenner jeg for! (What I am burning for!). Haugli, Trude,  Siri Gerrard, Anne Hellum, Eva-Maria Svensson (Eds.).   Bergen: Fagbokforlaget.  Pp.129-147.

Frangoudes, Katia; Gerrard, Siri.  2018.   "(En)Gendering Change in Small-scale Fisheries and Fishing Communities in a Globalized World." Guest Editorial. Maritime Studies. 17: 117-124. https://link.springer.com/article/10.1007/s40152-018-0113-9

Walsh, Deatra E; Gerrard, Siri. Gender.  2018.  "Mobilities and transformation in Loppa, a rural municipality of Norway's High North." Gender, Place & Culture: A Journal of Feminist Geography 26 (8): pp 1154-1174.  DOI: 10.36368/njolas.v1i01-02.11

Gerrard, Siri.  2017.    "Mobility Practices and Gender Contracts: Changes in Gender Relations in Coastal Areas of Norway's High North. "Nordic Journal on Law and Society, 1 (1-2). pp. 91-113. ISSN 2002-7788.  https://doi.org/10.36368/njolas.v1i01-02.11

 Muhanguzi, F.K., Ahikire, J., Gerrad, S., and Nordbroend, L. 2014.   "An Introduction: Partnerships and Social Justice: Research and Academic Collaboration between North and South on Gender, Poverty and Social Transformation." In     Grace Bantebya Kyomuhendo, Josephine Ahikire and Consolata Kabonesa (eds): Gender, Poverty and Social Transformation: Reflections on Fractures and Continuities in Contemporary Uganda. Kampala: Fountain Publishers.   https://www.worldcat.org/title/gender-poverty-and-social-transformation-reflections-on-fractures-and-continuities-in-contemporary-uganda/oclc/939743447

Neis, Barbara, Siri Gerrard, and Nicole Power.  2013.  "Women and children first: the gendered and generational social-ecology of smaller-scale fisheries in Newfoundland and Labrador and northern Norway."   Ecology and Society. 18(4): 64.   http://dx.doi.org/10.5751/ES-06010-180464
Related links:
Mobile Lifestyles Project, University of Tromsø
Contact:
Email: siri.gerrard@uit.no
Top ^