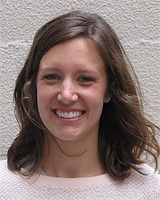 Diane Royall is a graduate student in the Department of Anthropology at Memorial University of Newfoundland, supervised by Dr. Sharon. R. Roseman. Her master's research takes a feminist political economy approach to work mobilities focusing on households of commuting workers on Bell Island, Newfoundland. Diane also serves as a research assistant to Dr. George Gmelch conducting fieldwork related to employment-related geographical mobility in Newfoundland.
Her knowledge mobilization activities have included conducting research for several digital stories. Diane was also interviewed for the television documentary "Bell," as part of the series "Les Îles de L'Atlantique" that first aired March 30, 2017. As well as for a CBC Radio documentary "Crossing the Tickle," part of "Ideas with Paul Kennedy" that first aired December 3, 2017.
Diane holds a MS in global health sciences from the University of California, San Francisco (UCSF) and a BA in international studies and politics from the University of San Francisco.
Selected Publications:
Roseman, Sharon and Diane Royal (2018). "Commuting to Garden: Subsisting on Bell Island." Food Futures: Growing a Sustainable Food System for Newfoundland and Labrador. Ed. Catherine Keske. ISER Books. St. John's, NL.
Gmelch, George and Diane Royal (September 2016). "Outport Life: Newfoundlanders use whatever means available to hold fast to their cherished land." Natural History. http://www.naturalhistorymag.com/features/163073/outport-life.
Gmelch, George and Diane Royal (2015). "Caribbean Tourism." Encyclopedia of Tourism. Ed. Jafar Jafari and Honggen Xiao. Springer International Publishing. https://www.springer.com/gp/book/9783319013831
Top ^