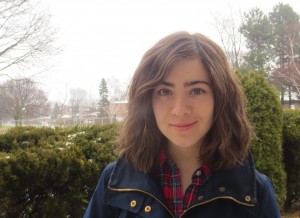 Leanna Butters recently completed her MA in Environmental Policy at the Environmental Policy Institute, Grenfell Campus, Memorial University. Leanna's thesis, completed in Sept 2018, is titled "Identifying the Built Space Impacts of Fly-in/Fly-out Employment-related Geographical Mobility in Deer Lake, NL."
Leanna joined On the Move as an MA student. As research assistant for the On the Move Newfoundland & Labrador Community Impacts Team, Leanna was integral in putting together the reports Mobile Work in the Straits and South Coast and Fly-in/Fly-out Commuting in Deer Lake.
This interview was conducted shortly before Leanna finished up her MA.
Q: You joined the On the Move team as a trainee while doing your MA at the Environmental Policy Institute, Grenfell Campus, Memorial University. What is your MA research about?
A: My MA research looked at the impacts of fly-in/fly-out, or FIFO, commuting in the town of Deer Lake in Newfoundland and Labrador. The main focus of the research was to study how FIFO workers impacted built space in the community, such as housing and infrastructure, but there were three objectives to my research overall. The first was more theoretical: Determine if Deer Lake is a source-hub community. A source-hub community is a community with an airport that has both a resident FIFO population and a population of FIFO workers from outside communities using the airport for FIFO work. The second objective was to identify changes in built space that may have occurred in Deer Lake related to FIFO work 2000-2016. And the final objective was to identify additional socio-economic and environmental impacts in the community that study participants felt were connected to FIFO. In short, using participant observation, a door-to-door census and semi-structured interviews with stakeholders, I found that Deer Lake is a source-hub community, that FIFO has impacted built space, and that residents did identify socio-economic and environmental impacts in the community related to FIFO.
Q: What was the most interesting, surprising or unexpected thing you learned from doing this research?
A: There were a couple things I found surprising doing this research, both while going through the data collection process and after analysis. When the door-to-door census was being distributed, I had a lot of help from students at Grenfell Campus. We'd get in the Grenfell Van, drive to Deer Lake from Corner Brook, and then distribute surveys. We did that for 11 days. Everyday when we drove back to Corner Brook, we'd have a discussion about how they day went, if we learned anything interesting, things like that. And something that came up almost every time was how aware people in the community were of the presence of FIFO. We didn't have to explain what the term 'fly-in/fly-out work' meant to the majority of residents we talked to and almost everyone knew someone who engaged with FIFO. To me, this awareness almost justified the research before we had the results because whether or not FIFO had impacted Deer Lake, it was clear that residents were very aware of the practice and, for the most part, felt it had impacted their community.
In terms of findings, the most surprising result was the strong attachment to place expressed by our census participants. There was a question on the survey that asked participants why they chose to move to or continue to reside in Deer Lake. We provided options, like access to services and amenities, friend and family connections, access to the Deer Lake Airport, and several others in addition to an 'other' option where they could specify a motivation we didn't list, and we asked participants to choose all that applied to them. We received 224 completed surveys back from residents, and 152 of those participants had moved to Deer Lake from another community in Newfoundland and Labrador or from another province in Canada. The 'Other' category was selected most often by all participants, but in terms of our pre-determined categories, Friend and Family Connection was selected most often as a motivation for living in Deer Lake. The surprise came when we analyzed the 'other' category and found how many participants had listed 'home' or 'Deer Lake is home' as their motivation for living in the community. In fact, 'home' came up more times than the majority of options we provided on the survey, including access to the Deer Lake Airport. Now, when I presented these findings to the community in January, they weren't surprised at all – but for me, it was an unexpected result!
Q: What was your favorite aspect of conducting interviews in the community (or communities?) you worked in?
A: Honestly, my favourite moment in data collection was during the door-to-door census. We were driving the Grenfell Van along Goose Arm road and somehow we managed to get the Grenfell Van stuck in some mud on the side of the road. This was actually the second time we had gotten the Van stuck in Deer Lake – the first time was in a snowbank on Gatehouse road and a kind resident helped push us out. So we were stuck in the mud and the Mayor of Deer Lake appeared, almost out of nowhere, in a red pick-up and gave us a tow. The residents of Deer Lake were incredibly hospitable and that story still makes me smile!
Q: You're now in the process of finishing up your Master's program. What do you think (or hope) is in store for you next?
A: I'm not sure what's next for me. I really enjoyed my work in Deer Lake and I learned so much from the experience. Developing the theoretical side of the project, conducting the research, and seeing the whole thing through to completion was really rewarding. I got to meet and work with a lot of knowledgeable and supportive people, and I felt like I was able to help the community of Deer Lake share their unique experience with mobile work. The focus of the research was also very personal for me in that I have a family connection to mobile work, so I got some answers to questions I hadn't realized I had at a personal level. The big question I've been left with now is how can I best continue to help communities in a way that is meaningful? I was considering moving on in my studies to complete a PhD, but recently decided I'd like to take a break and consider other avenues. Regardless of what I choose to do, I hope the future has more community-level work in store for me – I've learned I really am passionate about communities!