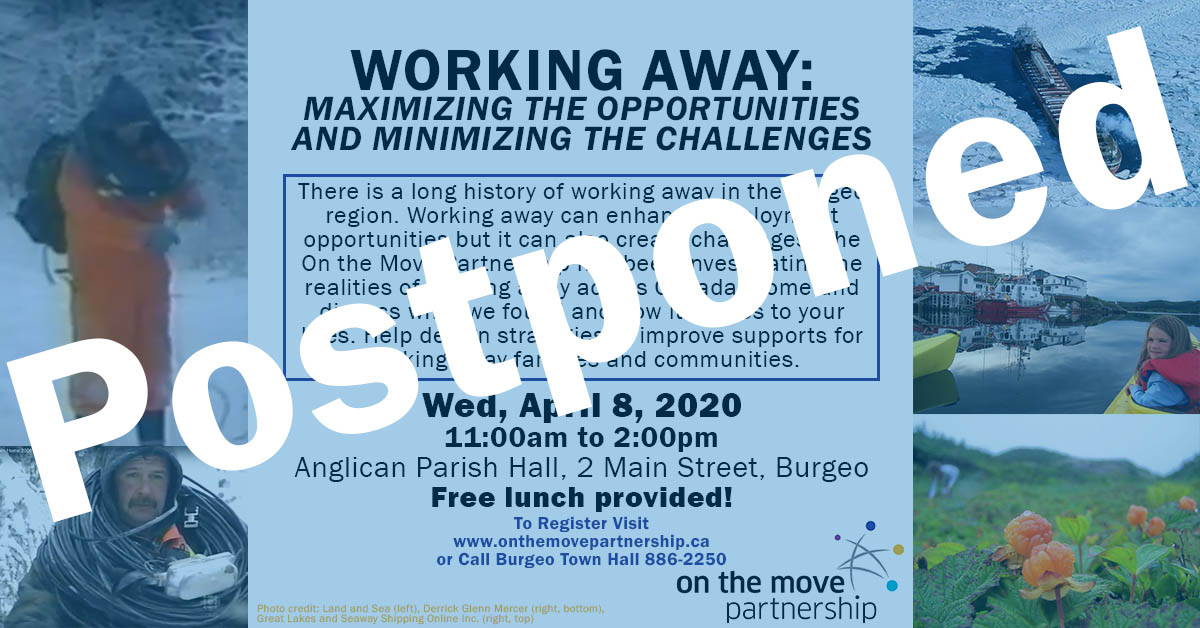 **Unfortunately due to the spread of COVID-19, we have to postpone this event to a later date. We hope that everyone stays safe and we look forward to coming to Burgeo to discuss the benefits and challenges of mobile work sometime in the future.**

*
*
*
*
*
*
There is a long history of working away in Burgeo and other parts of the south coast including in fishing, shipping, oil and gas, construction, work camps and other sectors.  Indeed, the region has one of the highest rates of interprovincial employment in the province of Newfoundland and Labrador. Working away can bring much needed revenue to the household and community and enhance employment opportunities but it can also create challenges.  It can create dependency at a distance for families and communities making them vulnerable to distant economic changes. It can also create challenges for caregiving, parenting and for the voluntary sector in communities.
Memorial University's On the Move Partnership has been studying working away for the past 8 years, including in Newfoundland and Labrador. We have been looking at who works outside their communities, why, and the consequences of different kinds of mobility for work for workers, families, employers and communities.
Learn about and discuss the relevance of the findings of this national study for the Burgeo region. Provide input into the draft policy recommendations emerging from the research that are seeking to strengthen the benefits that can come from working away while minimizing the challenges it can create.