Waad Khogali Ali is a researcher with the Future Skills Centre (FSC). He recently finished his Ph.D. in the School of Geography and Earth Science at McMaster University. His research interests intersect the areas of migration, employment, skills, and regional economic growth.
Hi Waad! Thank you for speaking with me today. Congratulations on successfully defending your thesis! Can you tell us what it's about?
Thank you, Kerri, for taking the time to have this interview with me.  What I set out to do is look into the social and spatial divisions of precarious labor in Canada using micro-data from Statistics Canada's Labour Force Survey and the Population Census. My first paper broadly examined how precarious forms of employment (PFEs) are spatially patterned across a range of geographies.  For example, temporary and involuntary part-time work was more prevalent in Atlantic Canada and became gradually less prevalent moving westward. The results also confirmed that all PFEs (except for involuntary-part-time work) were more common in rural and small-town areas, and less common in large urban areas. I also found that population characteristics (measured by metropolitan areas with a high share of Asian immigrants) and labour market characteristics (measured by the unemployment rate and prevalence in low-income) contributed more to explaining positive temporary employment outcomes.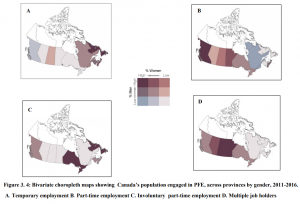 The most important implication for all of this is the importance of spatially targeted policies in abating poverty and precarious work. In Canada, we need to shift the conversation away from policies that are spatially blind when stimulating economic growth.  I believe the use of place-based policies would really help in terms of mitigating some of the hypervalences that we saw specifically across disadvantaged geographies.  Of course, these policies should be tailored to consider the economic, social, political, and institutional diversity in each geography of interest.
What are place-based policies and how are they utilized?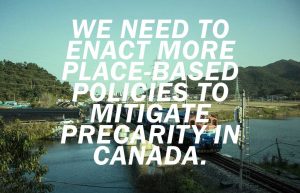 Place-based policies are efforts geared towards enhancing the economic performance of disadvantaged geographies. Studies in the US have shown that these programs and policies have had significant impacts on local labor markets in terms of the unemployment and poverty rate. In Canada, not that much has been documented. Some place-based policies do exist, but not much that I could recollect. We need to enact more place-based policies to mitigate precarity in Canada. I believe that fundamental to these place-based policies is support for local community organizations and social institutions that mediate immigrant's settlement processes with respect to not only economic assimilation but also broader social inclusion. Moreover, most importantly, ecosystems for skill development should be an integral component of place-based policies. This is needed to equip workers with the necessary skills needed in Canada's changing labor market (gig-economy).  I base this on my empirical findings that consistently confirm that there is a significant positive association between highly educated populations and precarious work. So, in summary, employability skills training programs/ initiatives should be an integral component of these place-based policies.
How do place-based policies impact mobility?
From my research we can hypothesize that within these problematic geographies, there are two dilemmas that we are dealing with that could be constraining factors to mobility. One is spatial mismatch and the other is the network effects.
We know that in those problematic geographies there are an abundance of low-skilled workers, specifically in urban CMA areas, and those low-skilled workers face long-term disadvantage spurred by declines in employment opportunities, coupled with mobility constraints that limit better employment opportunities. In such a case, direct place-based policies could be used to increase accessibility to jobs. For example, transportation policies could enable access to jobs, ultimately reducing the ills of spatial mismatch. Another direct effect of place-based policies is economic revitalization, so this whole concept of creating jobs in disadvantaged geographies that could upset dilemmas related to spatial mismatch.
Another aspect is network effects, or place-based networks. These could be enabling or disabling based on power relations. Some research done in the US has found when you look at a cluster of women, they tend to have very strong social network systems in place. These are very important because they translate to information where good jobs are and this is vital in abating spatial entrapment. When social networks are very well developed, there's fluidity of information where good jobs are. Most women will take advantage of that and use that as an opportunity to better their financial situation. It's an important aspect of job searching. In some communities where these social networks are not as well developed, they can fashion spatial entrapment. This was found when looking at segregated communities in Massachusetts, where most black women, didn't have well developed social networks and experienced spatial entrapment, and mobility was an issue. These place-based policies and networks could help in terms of sharing information among disadvantaged groups.
Thank you for telling me about this. Did you have any final thoughts you would like to share?
I benefited a lot from the training that OTM gave me. The learning environment that was fostered for trainees in Basecamp was helpful. I would like to thank the On the Move Partnership and Professor Barbara Neis for the doctoral fellowship to conduct this research.
For more information about Waad's research, check out his PhD thesis available here