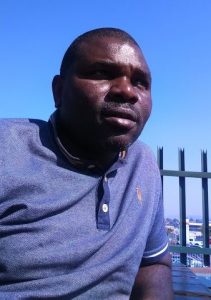 Denboy Kudejira is a PhD candidate in the Department of Anthropology at Memorial University. Areas of research interest include labour migration, land reforms and food security in Southern Africa. Through the PhD research, he is seeking to make contributions to academic knowledge production on labour migration within the Southern Africa region with a particular focus on Zimbabwean migrants engaged in precarious work (farm work). His PhD work is builds on ethnographic fieldwork that he conducted in the Limpopo province of South Africa as part of an MPhil research project at the Institute for Poverty, Land and Agrarian Studies (PLAAS), and which enabled him to understand the experiences of undocumented Zimbabwean migrants as they move into, within and out of the South African farm labour market.
Key questions for his PhD project are: what sort of identities are ascribed to migrants as they negotiate their way within the world of precarious work?; and what are the implications of these identities on their working and living conditions?
Denboy holds a Master of Arts (MA) in Sustainable International Development, from Brandeis University (USA) and a Bachelor of Environmental Sciences from the Bindura University of Science Education (Zimbabwe). Besides his academic research interests, Denboy is also a passionate development practitioner. Over the past 14 years, he has worked for various development agencies in Southern Africa, coordinating food security and livelihoods, policy research and advocacy programmes.
Selected Publications:
Kudejira, Denboy (2019). "Breaking Down the Binary: Layers of Vulnerability Among Internally and Internationally Mobile Workers in the Context of Southern Africa." Special issue on Temporary Foreign Workers, (Dalia Gesualdi-Fecteau and Adam Perry Eds.).   International Migration. First published on line December 8, 2019. https://doi.org/10.1111/imig.12678
Top ^