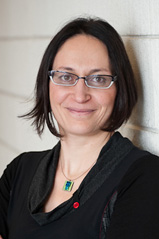 Delphine Nakache is an Associate Professor at the Faculty of Law (French Common Law). She  teaches courses in the areas of public international law and  immigration and refugee law. She has researched and published on issues related to the human rights and security-based implications of migration, citizenship and refugee laws and policies, both in Europe and Canada. Her main focus is on issues surrounding the protection of migrant workers, asylum seekers and non-status migrants, and on barriers to citizenship for disadvantaged immigrants.
Prof. Nakache is a member of several research teams. She is leading a five-year SSHRC-funded research on pathways into and out of precarity for migrant workers in Canada (Profs Idil Atak, Jason Foster, Luin Goldring, Co-Investigators). She is also leading the Canadian portion of a three-year Horizon 2020 EU research project analyzing how the protection regimes of some countries (Belgium, Canada, Germany, Italy, Lebanon, Norway, South Africa, Uganda) address the "vulnerabilities" of migrants seeking protection, and how migrants' concrete experiences are affected accordingly (Profs Dagmar Soennecken and François Crépeau, Co-investigators; Nathan Benson and Prof. James Milner, Collaborators.
As a co-investigator with the On the Move Partnership, Delphine Nakache looked at policy related to Employment-related Geographical Mobility (ERGM). More specifically, she is led research on Employment Standards (in collaboration with K. Lippel) and research on conditions related to family accompaniment for temporary foreign workers (Canada, UK and United States compared).  She is was also involved in a research on immigration programmes related to ERGM.
Selected publications:
Delphine Nakache, "The Canadian Temporary Foreign Worker Program: Regulations, Practices and Protection Gaps", in Producing and Negotiating Non-Citizenship: Precarious Legal Status in Canada, Luin Goldring and Patricia Landolt (eds), University of Toronto Press (in press), 2013.

Delphine Nakache, Sarah D'Aoust, "Provincial and territorial nominee programs: an avenue to permanent residency for low-skilled migrant workers in Canada?", in Legislating Inequality: Temporary Labour Migration in Canada, Christine Straehle, Patti Tamara Lenard (eds.), McGill/Queens University Press, 2012, 158-177, 393 pages

Sasha Baglay, Delphine Nakache, "The Implications of Immigration Federalism for Non-citizens' Rights and Immigration Opportunities: Canada and Australia compared", American Review of Canadian Studies (in press)

Delphine Nakache, Paula J. Kinoshita, "The Canadian Temporary Foreign Worker Program: Do Short-Term Economic Needs Prevail over Human Rights Concerns?", IRPP Study, 5, 2010.
Related links:
Faculty page, University of Ottawa
Contact:
Top ^