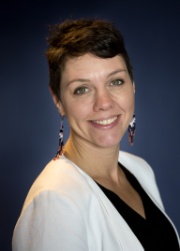 Deatra Walsh is associate professor of methodology at UiT: The Arctic University of Norway in Tromsø. In this capacity, she is cross appointed with three research and teaching centres: the Centre for Sami Studies, the Centre for Peace Studies and the Centre for Women's and Gender Research. Deatra has a PhD in Sociology from Memorial University in St. John's, NL, a Master of Rural Development from Brandon University in Manitoba and a Bachelor of Arts in Sociology from Concordia University in Montreal. She began her studies at Carleton University in Ottawa as a journalist. Deatra has held postdoctoral and research positions at York University in Toronto, Dalhousie University in Halifax, and at Tromsø. Before arriving to live in Tromsø in 2018, she lived for four years in Iqaluit, Nunavut. There she worked with the Government of Nunavut, first managing labour market programming for the territory and later as the Director of Poverty Reduction. Deatra is experienced using both quantitative and qualitative methods in the social sciences.
Selected publications:
Walsh, D. and S. Gerrard (Forthcoming). "Gender, mobilities and transformation in Loppa, a rural municipality of Norway's High North." Gender, Place & Culture.

Walsh, D. 2015. "Music in the Development of Place: Hey Rosetta! and the "New" Newfoundland." Pp. 86-103 in Place Peripheral: The Promise and Challenge of Place-Based Development in Rural and Remote Regions, edited by K. Vodden, R. Gibson, and G. Baldacchino. St. John's: ISER.

Walsh, D. 2014. "Reproducing Gendered Rural Spaces? Tensions and Reconciliations in Young Women's Narratives of Leaving and Returning." Pp. 42-60 in Gender and Rural Migration: Realities, Conflict and Change, edited by G. Bonifacio. New York: Routledge.

Haan, M., D. Walsh and B. Neis. 2014. "At the crossroads: Geography, gender and occupational sector in employment-related geographical mobility." Canadian Studies in Population, 41(3-4). Online at:
http://ejournals.library.ualberta.ca/index.php/csp/article/view/23846.

Walsh, D. 2013. "High mobility among young rural Canadian women." Norsk Geografisk Tidsskrift–Norwegian Journal of Geography. 67(5): 304–311.

Walsh, D., Aure, M., Valestrand, H., and S. Gerrard. 2013. "Gendered mobilities in the North: Advancing an international comparative perspective." Norsk Geografisk Tidsskrift—Norwegian Journal of Geography. 67(5): 260-265.
Contact:
Email: deatra.walsh@uit.no 
Top ^